Meet The Off Leash K9 Team
Dacia Bennett - Senior Trainer
Dacia has had a love for helping people and dogs since she was in middle school when her parents enrolled her in the local 4-H club "Canine Crusaders". She found out she had a hidden talent with dogs that became apparent right away with how quickly her and her dog advanced in the program.
Later in her 4-H experience Dacia and two other 4-H kids started a program called "4H, 4love, 4dogs, 4ever". The director at the local Human Society matched advanced 4-H kids up with hard to place dogs from the shelter, most of the dogs were feral and came from hording situations. The kids worked with these dogs in their homes for weeks, taught them basic obedience skills, worked on fixing bad habits like jumping, chewing, barking and social skills and helping them become a member of the family that would adjust well into a forever home. All these dogs were adopted at the end of the program.
In 2010, she started working for the local Human Society, adding more valuable information about breeds, health issues, diets and behaviors. While working at adoption events with the shelter, she was approached by PetSmart about becoming a lead trainer. This experience allowed her to teach her skills to other pet parents so they could work at home to help their dogs become loyal obedient family members.
2017 Dacia joined Off Leash K9 Training as our Indianapolis trainer. Dacia will socialize your board and train with her Yorkie Faylynn and her young Australian Shepard Havoc, in addition to meeting goats, cats, horses and a few rabbits. Her residence in the county allows plenty of romping through fields, woods and creeks to cool off during the summer months. Expect to see plenty of beautiful photos of your dogs during board and trains because Dacia enjoys photography as well. Check out her YouTube videos and photos on her
Hope Welsh – Senior Trainer
Hope Welsh has always had an immense love and respect for animals. As a kid she always watched Animal Planet, dreamed of working in a Wildlife Refugee or in a Zoo as a Zookeeper. Hope got her first dog in 2015, Duke. Duke is a German Shepherd, and together they went through two years of weekly training with a Sheriff K9 Handler in southern Indiana. Hope and Duke together completed a basic obedience course, tracking, and handler protection course. It was during her training with Duke that she realized her immense passion for working with dogs. 
Hope began her career in emergency/ public safety at the age of 18. Hope worked at Community Hospital South (CHS) in the Emergency Department as a Emergency Technician for five years. During her five years at CHS Hope obtained her National certificate as a Emergency Medical Technician (EMT).  She spent two years working for a 911 service called Indianapolis Emergency Medical Services (IEMS) as a EMT. In order to expand her knowledge in emergency care, Hope left IEMS to rejoin Community Hospital East (CHE) as an Administrative Assistant. During her one year at CHE she obtained her Primary Instructor (PI) certification and assisted in teaching EMT Classes. It was also during her time at Community that she began her process with Indianapolis Metropolitan Police Department (IMPD). The process took a year, but she obtained her certification and served the city of Indianapolis as a Patrol Officer for three years with the end goal of becoming a K9 Officer. However, after working in emergency/public safety for ten years Hope decided to step down as a Patrol Officer to spend more time with family, and found the opportunity of a lifetime to work with dogs on a daily basis.
Now, Hope joins Off Leash K9 Training in Indianapolis wanting to help owners obtain that bond with their dogs as she did with Duke. 
Bre Carr- Senior Trainer
My love for animals and especially dogs has always felt very natural. I enjoy helping others and working with animals and with Off Leash K9 I'm able to accomplish both!
I enjoy being able to help create an unbreakable bond between you and your furry friend with training.
My husband and I have been married for 13 years. We have 2 kids, 4 dogs, 2 cats, 1 hamster, 1 guinea pig, and 1 axolotl.
I can't wait to bring my passion, enthusiasm, and dedication to help you accomplish your goals with your dog!
 Allison Collins- Senior Trainer
My passion for dog training started a few years ago when I decided to get a German Shepherd puppy! I wanted to ensure that my dog was well behaved and mannered. I also wanted to be able to take her everywhere I could. This sent me into an addictive spiral of reading, watching, and researching dog training and canine behavior. Once I felt ready enough, I got my girl Leibe as a pup and started working with her on day one. I loved working with her, watching her grow, teaching her commands, and having people compliment on what a well behaved puppy shepherd she was. I quickly learned how amazing dogs are and what they are capable of and wanted to do more. I started helping out my family members with their dogs, realizing this was more than just a hobby for me. I saw the impact a well behaved dog had on my family and friends that I helped out. I eventually became a trainer for PetSmart where Leibe was my demo dog and I learned so much more about dogs, training, and helping people understand their own dog. After over a year with PetSmart I felt I wanted to expand my knowledge and work with different behaviors in order to advance my career in dog training, which drew me to Off Leash K9 Training.
I'm so excited to be a part of this amazing training company and help others understand their dog like I understand mine because the bond of a well behaved dog is one that you will never forget. 
 Stephanie Griffin- Senior Trainer
Stephanie Griffin
I got my first dog Pepper, an English cocker spaniel, from Santa on Christmas morning when I was 4 years old.  It's been a love affair with dogs ever since.  Before graduating from Purdue, I worked at the Tippecanoe County animal shelter where I saw hundreds of dogs surrendered due to behavioral and obedience issues.  It was horrifying and heartbreaking.
Over the years, I have owned a successful pet and farm sitting business, trained horses and taught riding lessons.  Now I'm thrilled to teach dogs to be good canine citizens so they can enjoy a strong, long-lasting partnership with their owners.  My goal is to help prevent as many pups as possible from going into shelters.
My pack includes my husband (Mike), my daughter (Megan) and my son (Michael).  Our fur kids are Farley (German Shepherd), Dodger (rescue brindle mix), Wellington (rescue chihuahua mix), Scout (geriatric black cat) and Cahlua (horse).  
do you have questions for us?
Or Call us for a free consultation today!
About Off Leash K9 Training
Dog Trainers Who Are Recognized Around The World!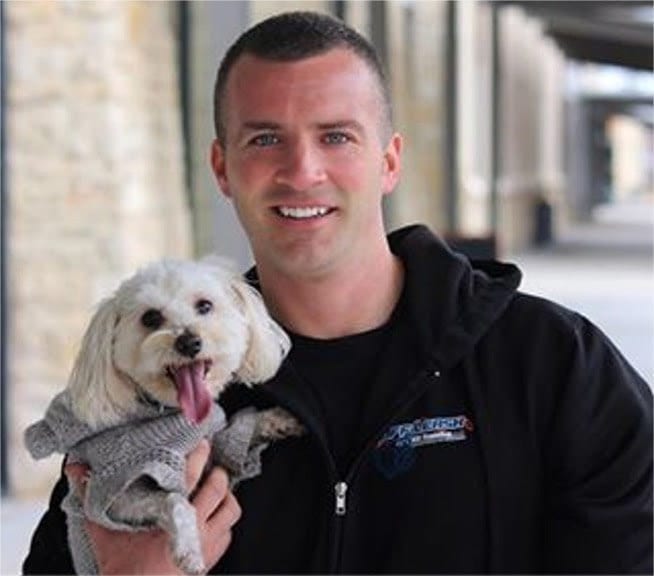 Nick White is the Owner and Founder of Off Leash K9 Training.  Nick is a former US Marine and former US Secret Service. He currently has over 130+ dog training locations throughout the United States. 
Nick is globally recognized as being one of the top dog trainers in the world.  He has 2 official world records in off leash obedience, named on Wikipedia as one of the top 20 dog trainers in the world, recently named top 10 trainer in the world by bestdogtrainers.org, has been featured in many magazines and shows, and he is regularly requested by the top celebrities and athletes! He has been called upon by people such as actor Ryan Reynolds, WWE's John Cena, MLB All Star Max Scherzer, UFC World Champion Jon "Bones" Jones, and many more!
You can visit our YouTube Channel and watch over 1500+ before/after videos of Nick and his team's work!  Off Leash K9 Training has more documented videos than any dog training business in the entire world!